The Tomatis Method at Seeds of Knowledge Montessori School
Since 2018 in collaboration with the Montessori school Seeds of Knowledge , we have implemented the Tomatis method for the school's students.
Who am I?
Klaudia Sara Matti, I'm a therapist specializing in the Tomatis method and kinesiology. For 17 years, I worked at the Centre d'Écoute et de Santé in Rolle, where I acquired a good knowledge of the pedagogy of the Tomatis method. Since 2018, I have opened my practice in Vich and help children, teenagers and adults develop their potential and explore their resources.
The Tomatis Method in a nutshell
The Tomatis Method (Audio-Psycho-Phonology) was developed by Dr. Alfred Tomatis (1920-2001), an ENT doctor who established the link between an individual's ability to listen and his or her ability to communicate.
The Neuro-Auditive program offers auditory re-education, the main aim of which is to develop attention and concentration in order to improve students' learning potential.
more info

The listening test
To begin with, the children take a listening test. It's a test of auditory attention that resembles an audiogram, and which itself combines elements of audiology and psychology(attention focused on several frequencies and the ability to differentiate between them).
Test results can show a variety of symptoms and often disturbed skills, in children with academic difficulties such as:
Coordination and spatial orientation problems,
playback problems (problems transferring sound to symbols and vice versa),
immaturity and emotional instability,
attention deficit disorder (ADD),
problems with concentration, behavior, memory, following instructions, relationships with other people.
Based on the test results, I define the hearing stimulation program. This sound program is always selected individually.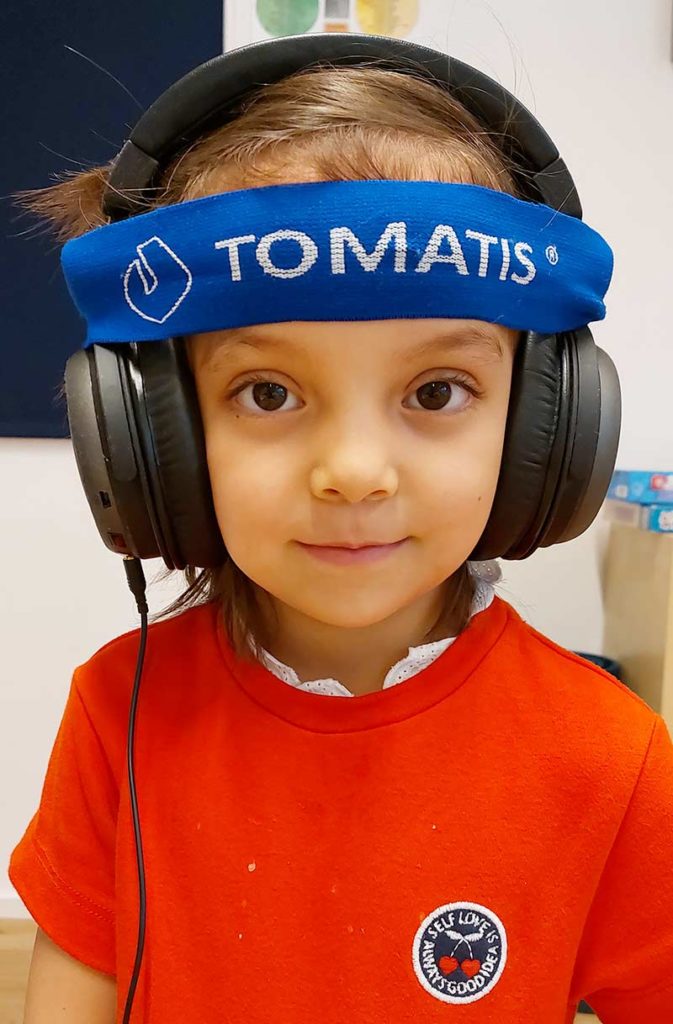 Initially, the children follow passive sessions. Thanks to specially-designed headphones (sound transmission takes place via air conduction and bone conduction), they listen to musical programs. Mozart's music is used as the main sound source.
Why Mozart? His music is characterized by its high harmonic content and high frequencies, which have a strong stimulating effect.
Children associate this method with fun and it is very well received. The sessions feature a variety of games, arts and crafts.
In the 2nd stage, the children perform vocal exercises using a microphone. They learned to listen and control their voices thanks to their improved listening skills.
During the passive and active phases, sounds are processed by the electronic ear, alternately changing the timbre and intensity of the message. These contrasts are designed to surprise the ear and the brain, to put them in a position to listen.
Testimonials from school parents
Dear Klaudia, I wanted to thank you for once again bringing light to my ray of sunshine. I've got my boy back and I'm happy with the time I spend with him every day. If I had to look back on his development: my son has become talkative, self-confident, involved and connected with those around him. I can't thank you enough for all your hard work. It's a miracle and a great joy.
Our 8-year-old daughter was experiencing a number of developmental difficulties, including slow learning and a lack of self-confidence.
Having attended a Montessori school since the age of two and a half, we decided to give her the means to overcome these difficulties by starting the Tomatis method with Klaudia on the school premises.
Results and progress have been rapid and spectacular. Our little girl has opened up to the world and is now more at ease with the rhythm of the activities she undertakes every day at school. At the same time, she has gained a great deal of confidence in her new abilities. She has learned to listen and to listen to herself.
Testimonials from the school's teachers
Conclusion: The Tomatis Method complements various types of therapeutic or pedagogical methods he Tomatis Method has a strong place in the educational environment, which is why I'd like to offer my services in schools to inform and raise awareness among teachers.
As a Montessori educator for the primary level, I have had the opportunity to follow several children on their Tomatis journey with Klaudia, who works directly in our school. I remember a non-reading boy aged 8. He followed the Tomatis method and, after a few sessions, his ability to repeat sounds correctly and his memorization of complex sounds improved greatly. In just a few months of close, coordinated follow-up with Klaudia, this young boy became a reader.
Juliette is 5 years old and has been attending Seeds of Knowledge Montessori School for 3 years. Juliette is a lively, discreet, somewhat shy child with excellent cognitive skills. In her third year at our school, Juliette suffered from anxiety and a certain emotional fragility that interfered with her academic development. Her bond with Montessori teaching had weakened and she avoided any new challenges. After discussions with the parents, and with their collaboration, we sought the support of Tomatis in the person of Klaudia Matti. After 3 sessions, we were delighted to observe significant changes in behavior. Juliette has rediscovered her joy of exploring the materials available to her in class and is constantly looking for new challenges. We feel she's more confident.